General Info
Casa dei Bambini Izabelin is a private, English language kindergarten with a location (near Kampinoski Park Narodowy). The kindergarten has its own garden and playground.
The kindergarten is a part of the family of educational institutions called the Warsaw Montessori Family.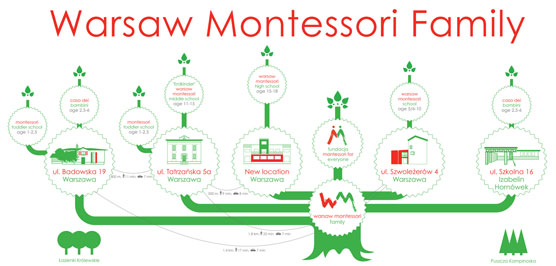 School hours
7:30 – 17:00 Monday to Thursday,
7:30 – 15.00 Friday.
Children arrive at school between 7:30 – 8:15, and should be picked up at 13:30 (after the morning classes), or at 15:00 (after the afternoon classes). It is possible for children who are enrolled for a full-day program to sign-up for additional free afternoon classes, which end at 17.00.
 
Highly qualified international teaching staff
Our teaching staff has the diplomas of the world's leading academic centers. They are excellent teachers of integrated teaching, prepared to carry out the program of holistic learning about the world.
Language and educational environment
All classes are conducted in English in a very attractive educational environment, rich in Montessori learning materials and didactical aids which support the child's development.
Montessori activities are organised into five subjects. From the child's point of view the distinctions between these subjects are unimportant and indeed most of the activities create experiences that give benefits in more than one subject area:
Practical life
Sensorial
Mathematics
Language
Social Studies
The curriculum detailing the mathematics, language and cultural programmes the children follow is available on request.
The Casa dei Bambini program is enriched with a variety of additional activities, already included in the kindergarten fee. These include: football,  modern music and dance, theatre and art classes, as well as cooking and ceramics. More information about the activities conducted in the kindergarten in the CIRRICULUM.
Where did Montessori come from?
Montessori (pronounced MON-tuh-SORE-ee) education was founded in 1907 by Dr. Maria Montessori, the first woman in Italy to become a physician. She based her educational method on scientific observation of children's learning processes. Guided by her discovery that children teach themselves, Dr. Montessori designed a "prepared environment" in which children could freely choose from a number of developmentally appropriate activities. Now, nearly a century after Maria Montessori's first casa dei bambini ("children's house") in Rome, Montessori education is found all over the world, spanning ages from birth to adolescence.
What is the difference between Montessori and traditional education?
Montessori emphasises learning through all five senses, not just through listening, watching, or reading. Children in Montessori classes learn at their own, individual pace and according to their own choice of activities from hundreds of possibilities.
Learning is an exciting process of discovery, leading to concentration, motivation, self-discipline, and a love of learning. Montessori classes place children in mixed age groups, forming communities in which the older children spontaneously share their knowledge with the younger ones. Montessori represents an entirely different approach to education.
Montessori pedagogy represents a totally different from the traditional approach to child education. Its main principle is "follow the child" – persevering following the child on his individual path of development and gaining knowledge.
Are Montessori children successful later in life?
 Research studies show that Montessori children are well prepared for later life academically, socially, and emotionally. In addition to scoring well on standardised tests, Montessori children are ranked above average on such criteria as following directions, turning in work on time, listening attentively, using basic skills, showing responsibility, asking provocative questions, showing enthusiasm for learning, and adapting to new situations..
Communication with the parents
In order to allow the parents to become better acquainted with our teaching methods, pedagogical principles and the individual development of the pupil, we offer parents many opportunities to interact, meet and communicate with our teachers (parent's meetings, individual parent's conferences, Montessori workshops etc.).
Enrollment
We accept children between 2.5 to 6 years of age. Enrolment continues throughout the year. The number of places is limited to 20 students per classroom.
If you would like to obtain detailed information concerning the Montessori method and the activities of our school, please visit us upon prior arrangement by telephone:
Zuzanna Jesnionowska
AMI Montessori Guide Office Manager T +48 692 099 134  or by mail: office@warsawmontessori.edu.pl.
Complete the  Application Form and please include a current photo of your child.
We also invite you to read the articles about our Montessori schools and philosophy on the Warsaw Montessori Family website.